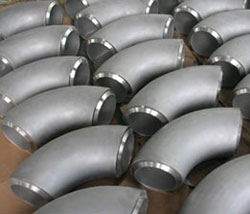 Duplex Steel Elbow
Duplex Steel Elbow is the most favored pipe fitting for exceptionally unsafe states of commercial ventures. These elbows are fitted in the establishment of pipelines for altering the course of material stream. With fantastic quality to support very acidic and cruel situations, these fittings are generally utilized as a part of commercial enterprises of petrochemical, oil and gas, atomic, petroleum and force era.
These channel fittings guarantee superb steadiness in the measurements even in high weight and temperature states of commercial enterprises. We likewise offer choices at last associations of these elbows for snappy and simple establishment in pipelines. Made utilizing unrivaled evaluation duplex steel, the elbow can hold up under high weight levels with zero breakage.
Latent to every one of the chemicals and solvents, these elbows are utilized as a part of pipelines of boilers, desalination plants and preparing tanks where spillage can be dangerous. These are high sought after among the commercial ventures of petrochemicals, atomic industry, paper and mash and oil and gas.
Specification

| | |
| --- | --- |
| Duplex/super duplex stainless steel: | UNS S31803, UNS S32205, UNS S32750, UNS S32760, UNS S32755, UNS S32750 |
| Stainless steel: | 304 / 304L / 304H / 316 / 316L / 316H/ 316TI / 317 / 317H / 321 / 321H / 347 / 347H / 904L ASTM A815 / ASME SA815 |
| Grades : | ASTM A403/ASME SA403 |